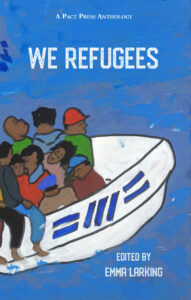 For release June 25, 2019 in Australia

For release September 27, 2019 in the U.S.
The Regal House Initiative, together with Pact Press, is proud to bring you an anthology of writing by and about refugees, asylum seekers, and other forced migrants. We Refugees is intended to amplify the voices of displaced people and bring their experiences to the awareness of readers. The lead editor for this anthology is Dr. Emma Larking.
Our aim is to provide insights into the lives of the displaced, insights that are often ignored in contemporary media accounts of the global refugee crisis. Rather than present a vision of crisis, we would like to present a vision of hope and energy, to celebrate the resilience of people who have been forced to leave their homes and seek new ones. We sought contributions that may discomfort or challenge readers, presenting the experience of displacement in a manner at odds with more typical representations.
Proceeds from the publication of We Refugees
Editorial work will be provided free of charge by the Pact Press editorial team, lead by Dr. Emma Larking, and all net proceeds from the sale of the anthology will go to support the work of the Asylum Seeker Resource Centre (ASRC).
Based in Melbourne, Australia, the ASRC describes itself as:
…both a place and a movement. We are an independent not for profit organisation, whose programs support and empower people seeking asylum to maximise their own physical, mental and social wellbeing. As a movement, we mobilise and unite communities to create lasting social and policy change for people seeking asylum in Australia. We are proud to be owned and run by our community of volunteers and supporters.
Please visit the ASRC website for more information about its campaigns, work, vision and values.
Interview with Artist Virginia Ryan, Contributor to our forthcoming Pact Press Anthology, We Refugees.